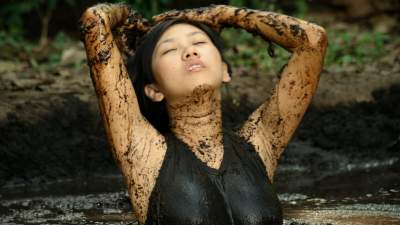 Starring the following model:
"Angel is no angel this time around...but not evil either!"
Angel is at her absolute best in this intoxicating sinkfest! Considering that Angel is very special to begin with, this scene pretty much becomes a 'must have' for Pinay fans. In part one, Angel teases the camera by slopping around in the shallow sections of the pit. But before long, her legs and skirt become soiled in the goopy wet peat. But then, we get a nice surprise as her shirt gets mucky and sticks to her chest like glue. In part two, Angel continues to taunt the camera with her body in the deep peat pit. I'm edited a lot of footage of Angel, but I have never seen her animated in the way she was on this day. Lots of attractive expressions to enjoy--as well as two nice submersions at the end! Yummy!
| | |
| --- | --- |
| File count: | 3 |
| Total size: | 1.8 GB |
| Total runtime: | 29 mins, 45 secs |
| Date added: | 6/09/15 |
| Year produced: | 2009 |
| Product ID: | QSVATP |
| Views: | 2812 |
| Scene ID: | 14677 |

$15.99

Report
Includes all of the following files:
mpvangelteaseinpeatskirt.zip

1600x1067

Zip file of 552 photos

205.17 MB

sizes may vary
mpvangelteaseinpeatskirtpt1hd.mp4

1280x720

8,081 Kbps

453.64 MB

16.5 minutes
mpvangelteaseinpeatskirtpt2hd.mp4

1280x720

7,248 Kbps

357.55 MB

13.2 minutes
Tell others about this scene: